Read Time:
9 Minute, 21 Second
So you wanna turn some heads at the gym? Making a point of looking sexy at the gym can be a fun idea for many women.
Why? First of all, if you're single and ready to mingle then it can be a great way to find a date (no app needed).
Secondly, looking sexy at the gym can be an excellent confidence booster. Hey, even if you aren't in the shape of your life you can turn plenty of heads.
Sexy gym clothes for women have always been a huge thing in sportswear stores. A lot of women want that extra confidence boost while sweating and struggling, or they simply want to look hot like the badasses that they are.
Whichever it is, sexy gym clothes can be great for both getting the sweat running during that serious workout, and also get the blood pumping for your adoring fans. So how are you going to rock that sexy gym look as the hot girl you know you are?
The essential gear for looking sexy at the gym
When it comes to looking sexy at the gym, your hot gym outfit is going to be a good place to start. We've picked out the best attire to feel comfy, accentuate your best features, and obviously look hot too.
A tiny sports bra
I don't care how big or small you are, a woman working out in a sports bra is hot. It's not even just because you are showing off your body… Or because of your confidence in your body. Although these two are factors, but it also shows off your fitness progress and leaves a little less to the imagination.
Imagine doing lateral raises, deadlifts, whatever exercises that work your arms, back and shoulders. And then imagine the muscle moving in that area as you do your absolute best, rocking out rep after rep. How is that not sexy?
Going for the sports bra also avoids sweat patches – which is a bonus. Working out means that you're going to sweat, and having a huge sweat stain on your back or under your chest area isn't super sexy. Even though this is completely normal and only shows how much you have already worked, people can get self conscious about it, so by not wearing a shirt you can skip the sweat marks.
Also, let's be honest, a sports bra covers just barely more than a regular bra, making it the peak of sexy gym clothes. Oh and if you've got nipple piercings, you can 10x that sexiness too.
Go backless
One more element to consider for a really sexy gym outfit is a backless sports bra. This just gives you a bit more exposure, and looks awesome when you're working your arms and back.
And, it also works wonders if you have some great body art to show off. There are some great backless sports bras out there, but we love this one below.
Check it out on Amazon for just £12.99.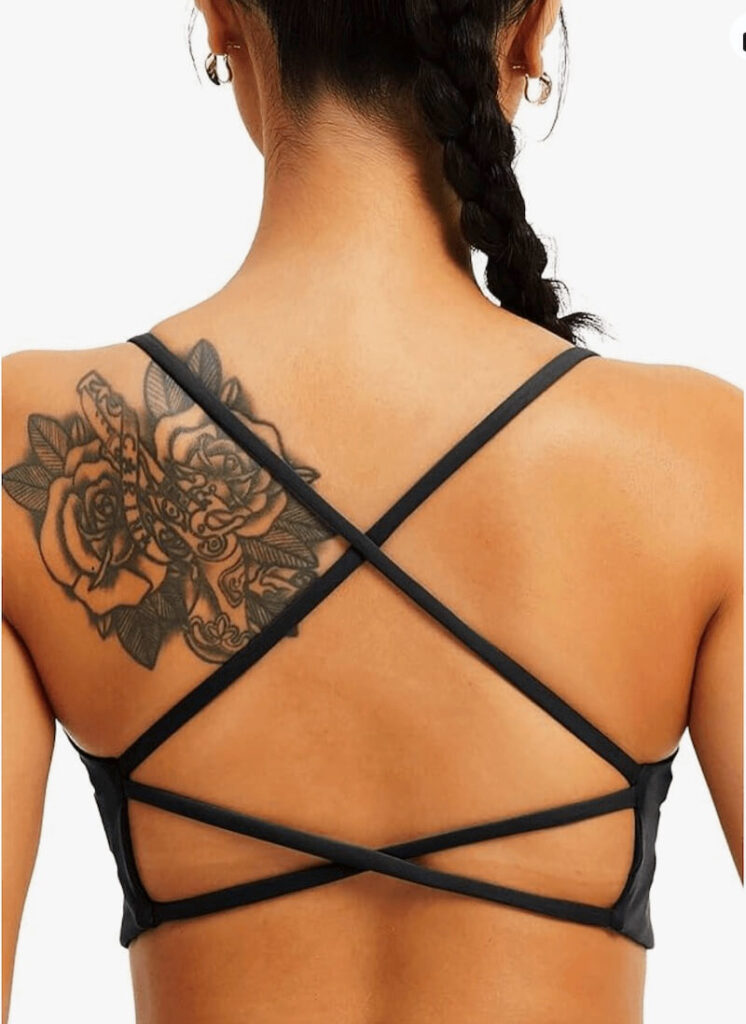 Form fitting for best results
Lets be straight here. If you're wanting to look sexy in the gym as a woman, you're probably going to be choosing form fitting leggings or shorts. Accentuating your curves is hot, and if you're doing squats and deadlifts in front of that cute guy, or girl, you might be hoping to catch them peeking. And tight leggings will do that – obviously…
But it's a common misconception that sexy workout clothes consist only of sports bras and form fitting leggings or shorts. I'm here to tell you that you don't need to show off your butt, thighs and calves to look hot as hell at the gym. Sure, it can help, but if you are conscious of it and it affects your performance at the gym then it is simply not worth it.
Confidence is always the key, so if you are more confident in loose pants better than leggings then go for it.
However your confidence can sometimes affect your performance at the gym. So if you feel self conscious, go for looser fitting clothes such as a tracksuit or baggier shorts. And you can easily rock the loose fitting pants and sports bra combo, since sexy gym clothes for women can vary and this might just be the way to go for you.
Short shorts are essential
Obvious statement alert! But yes, if you want to look sexy in the gym, go as short as you can with those pants. Do you need to have a butt that is as tight as a drum? Well, it helps – but not necessarily.
If you're not entirely convinced about having your booty on show, there are also plenty of shorts that accentuate your butt. And remember, big butts are hot! So even if you are very on the thicck side, embrace those curves girl.
And would you wear shorts like this in the gym? Well, if you did you would certainly turn a lot of heads… (check them out on Amazon)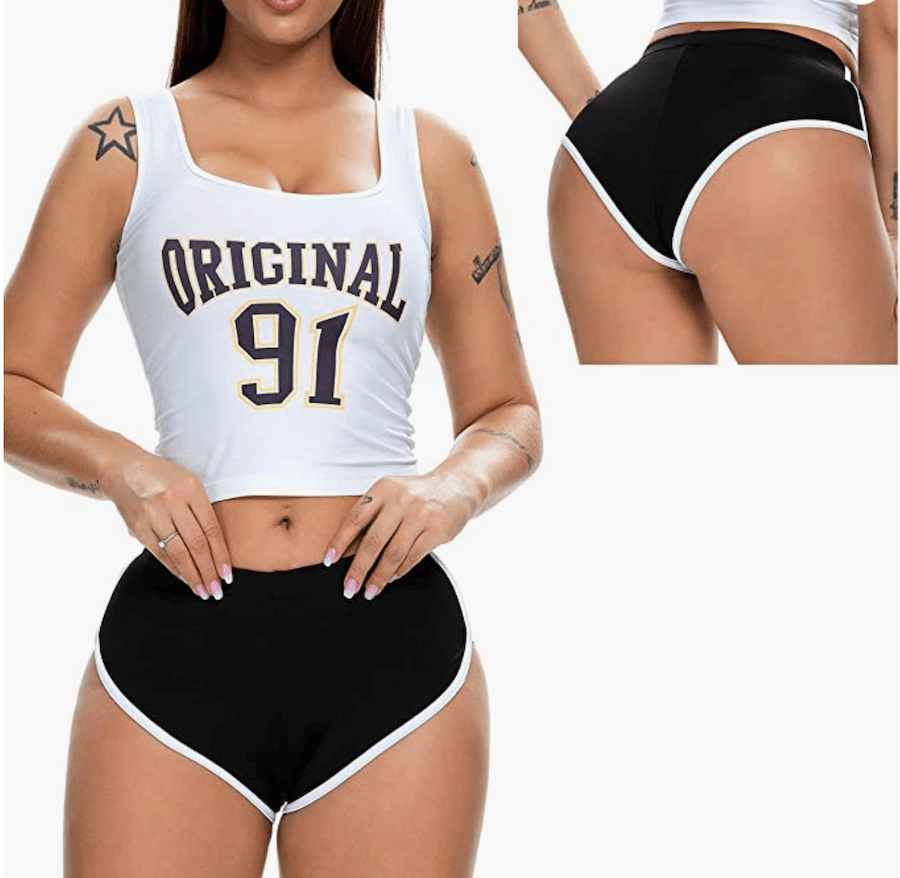 Butt lifting leggings
You've seen those girls doing squats in butt lifting leggings, or scrunch butt leggings, and wondering if you can pull if off? Well, there's a reason why you see these everywhere in the gym now.
Butt lifting leggings add support to your butt and accentuate your curves, making them perfect for girls with a rounded bum or lots of curves out back. And the best thing is they can be really flattering even if you're not quite in the best shape of your life.
So if you want to get heads turning when you're doing your squats, add a set of scrunch leggings to your sexy gym wear wardrobe.
The retro leotard
You might be too young to remember Jane Fonda workout videos, but perhaps you remember the Eric Prydz video with the young ladies in leotards working out?
Well, if you're feeling confident and sexy, why not go full 80's and turn up in a leotard? First of all, it's totally topical, so kudos to you if you do. And as a retro fashion item, you'll get admiring looks from both genders as someone who knows how to look sexy in the gym and cool too.
Just to refresh your memory…. Here is the Eric Prydz hit.
And, here is a Jane Fonda workout!
Fitness tips to look hot at the gym
So it's one thing to dress sexy at the gym, but sometimes you want to catch someones eye. These fitness tips will help you get that attention, and even help you break the ice (if that's what you want to do).
Do leg exercises
Sorry, it is how it is… Looking hot at the gym as a woman will probably involve you doing leg exercises. Squats, calf raises, leg presses.
Not only do these workouts look really sexy while a woman is doing them, they will also help shape yourself to look even better. Your glutes and calves will thank you for them and you might also be able to squash a watermelon with your thighs after doing this enough.
(You would not believe how many people find that hot, just look up "death by snu snu".)
Even a bit of running can be included in this category. You will not make a spectacle of yourself if you are only doing it to look hot, but people will most definitely take a few glances at you. Although, you should be aware of the… Bounce. Especially if you usually don't run and have a bigger chest.
Yoga is sexy
Not only is yoga super popular, it's also very sexy. All that stretching, extending limbs and mindful balancing offers a cool and sexy vibe in the gym.
And if you're in London, there is even such a thing as naked yoga!
Do squats (obviously)
Honestly, what girl doesn't do squats? They tighten up your butt, your legs and your core, and oh hey… You also look hot as hell when doing them.
So yes, if you want to turn admiring glances both in the gym and most likely out of it too, keeping up your squats is a key part of looking sexy at the gym.
While we're here, other exercises that really help to tone up that peachy butt are lunges, burpees (sorry, but they do help – even if they're not very sexy), mountain climbers, and yoga.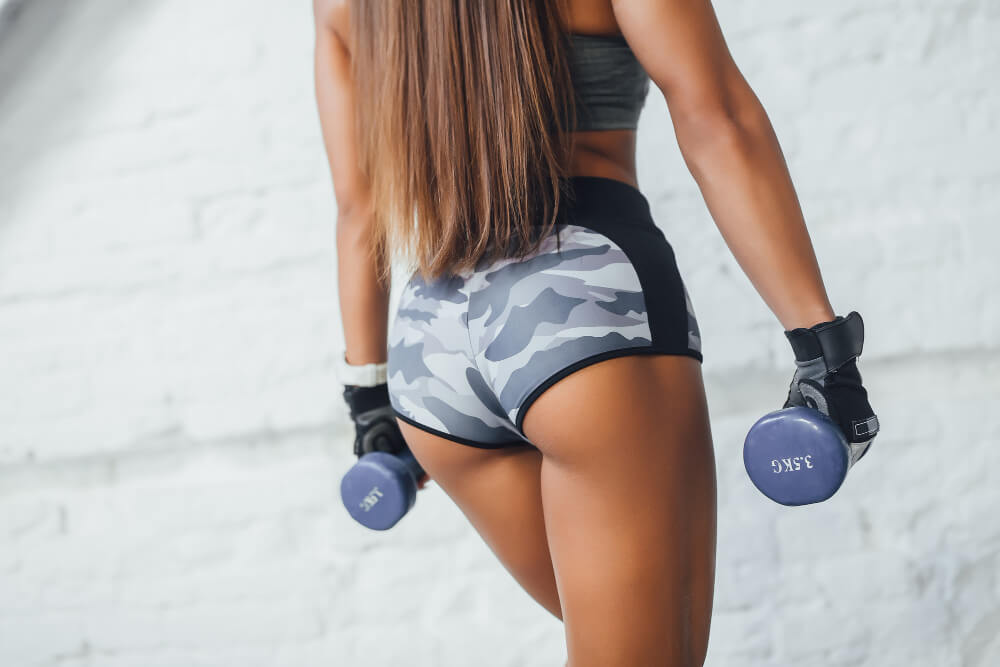 Stretching is always a good idea
Sexy workout clothes aren't everything, as I have already mentioned. Even the regular parts of a workout can be hot, as long as you know how to present yourself. For example, you should always stretch before starting a workout so as not to injure yourself. And it's also how to look hot at the gym as a woman.
Even simple stretches where you just deal with your legs can look (and feel) great, but they will most definitely earn you some googly eyes by the people around you. This goes double if you are very flexible and you do bigger motions or more unique poses to properly stretch yourself out.
Be warned though, this can come across as a little in-your-face and other women can and will judge you if you over do it. Me included. Overdoing this is not exactly a great idea, so choose when and how you do it well.
Do not be afraid to ask for help
Once again, this goes back to the confidence factor. Hot people aren't afraid to talk to others and ask for help whenever they need it, so you shouldn't be either while you are at a gym. Although many people are in the zone when they're at the gym, most people, especially that hot guy, will be happy to help a woman who is confident enough to ask for some help.
The key is that you should be comfortable enough to ask how a certain machine works or to ask another gym-goer for a spot. This is also a great way to make friends or even chat to that hot guy at the place you go to.
You do you
A key thing to remember is that you should really just wear what you feel comfortable in. If you feel comfortable in big baggy shorts, you go girl. But if you want to wear booty shorts and a tiny top then all power to you.
One of the great things about 21st century women is that we give less of a fuck what people think about us. And this also means that if we know we look good, we often feel good – and being sexy can be incredibly empowering.
So to take away from this article:
Wear clothes that are comfortable to you
Wear clothes that make you feel good
If you want to flaunt your best assets, that's for you to decide and you alone
Find excellent gym clothes, including sexy gym clothes for women, in our guide to buying gym wear online.
Remember: clothes alone won't make you sexy, that is your job. Pieces of clothing can only enhance the look.